Just getting back from a weekend trip to KC and rec'd a phone message from Scrapfunattic (the coolest scrapbook store in Andover and all of Kansas), that I won the $100 gift certificate to their store! Boy was I pumped! They were having a be-lated special sale on Saturday in celebration of NSD. Thicker's were buy 1 get one 1/2 off, Bazzill were buy 10 get 5 free, there was a 20% coupon to use on any one product, and if you spent $50, you'd be entered into this drawing. I can't believe I won! Double the fun for me!

What did I get? I got two package of blue poolside thickers, 30 sheets of Brown & cream colored cardstock (I'm always running out of these two colors), and I used my coupon on this cutie... a Heidi Swapp Pink/Black polka dot rolling tote!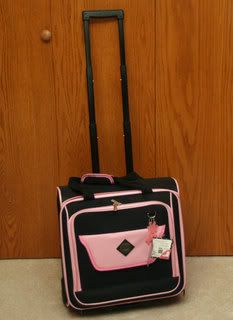 We went to KC because my brother Joe had a free hotel pass at Ameristar and the friends he had planned to go with bailed out on him. So Lam dropped him off when we got there and we took the kids to the Legends to do some shopping. We didn't do much shopping because toting a 3yr old and 1yr old around looking for clothing just isn't exciting for them and you end up spending your time chasing them down, running them to the bathroom, and getting nothing accomplished. I bought Kenzie a dress at Tommy's and Micah a shirt & swimtrunks at the Gap for 30% off, the only two places I ended up getting to go to. Micah wanted to play in the huge waterfountain, he got soaked & needed a change of clothing. Kenzie loved the T-rex restaurant and kept asking to go back to see the dinosaurs. After dinner & shopping we returned to the hotel and took the kids to the arcade to play. $30 later, they cashed in their 250 tickets to get 2 pushpops, 2 tops, and 2 dumdums.